Mercedes to release the most expensive sedan in the world for 1 million dollar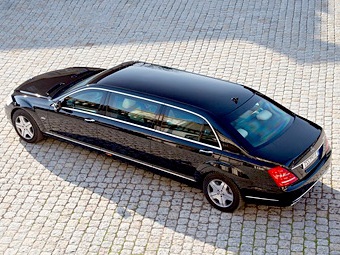 According to Bloomberg, the head of Daimler autoconcern Dieter Zetsche confirmed that the engineers of the German company are developing a top version of luxury sedan Mercedes-Benz S-Class Pullman. The price of Mercedes-Benz S-Class of new generation – Pullman – will exceed one million dollars. This is twice more expensive than the most expensive extended Rolls-Royce Phantom which price start from 475 thousand dollars.
It is expected that the new car will be presented in 2015. Only 12 items of this novelty is planned to produce annually. In the sedan will be three rows of seats. The owner of a car will be protected by an armor body. Technical performance data of the novelty is kept in secret. Experts assumed that the novelty will be equipped with a supercharged V12 engine.
The representative of autoconcern noted that the sedan will be the most expensive, so that there will be no competition. The company hopes that the new car will help the enterprise to bypass on profit by 2020 of such giants, as Audi and BMW.