New Ford Galaxy will be presented in 2015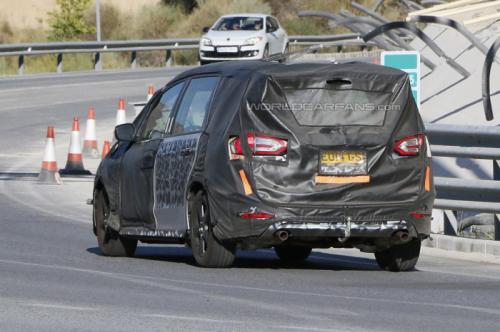 Representatives of the automobile alliance Ford Motor announced about the upcoming debut of new minivan Galaxy. According to some official information, the presentation of the model will take place during the motor show in Geneva, which is planned on March of this year.
On the spy shots the prototype is hidden with camouflage - however it is clear that over the exterior much work has been done. The model has become bigger, while the design - more modern. The front strut is now located at a more acute angle to the waist line. The appearance of new Ford Galaxy will be in the style of the updated compactvans S-Max and C-Max. The motor range consisting of 4-cylinder so-called "EcoBoost," the minivan will borrow from Ford Mondeo. It is also expected a large option of petrol and diesel engines.
What will be the layout and content of the salon of Galaxy is not yet known. Many similarities are most likely to be with S-Max. And S-Max, in turn, is full packed with the latest technological innovations, such as wireless Internet access, tablets for second-row passengers, and the Ford Sync system is able to monitor the health of passengers, catching the rhythm of their pulse. In case of danger, the system itself will contact the emergency services and will transfer them coordinates of the location of the car.