Review - Brutal Ford F650 2013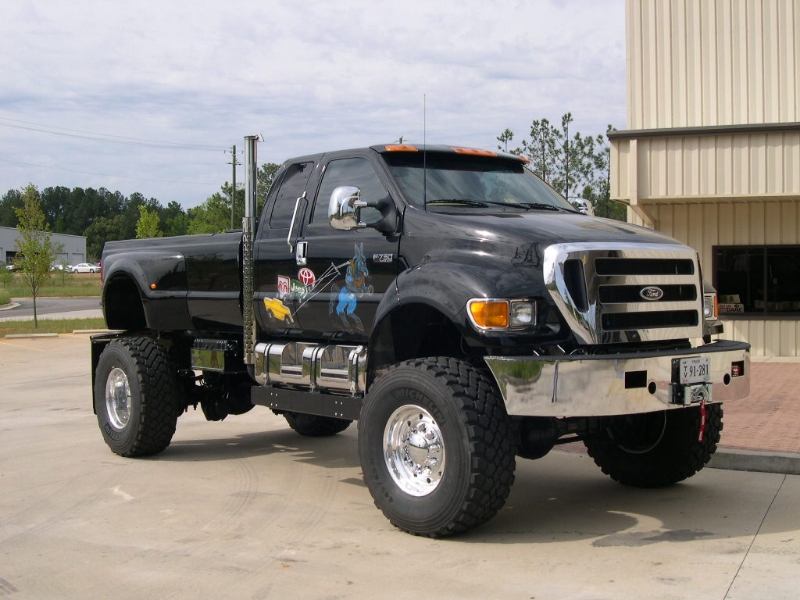 Modern design, huge size, brutal appearance and deafening roar of the engine. Behind the wheel of a such monster you will definitely not meet a girl. Front of you a real strapper - Ford F650
Review Ford F650 2013:
If you are tired of your SUV, but you don't want to go behind the wheel of a coupe or sedan, you should definitely try out this massive iron Monster.
Initially, the Ford Company created F650 as a vehicle for which always there will be a job — whether it is towage of cars, transportation of goods, or participation in construction works. But in any way this car wasn't positioned as a family car. After all, not every family man's garage accommodates such a powerful "Hulk" over three meters in height and eight meters long. But it turned out the opposite. This huge "dinosaur" was very much fallen in love to the American families in their everyday life, gradually filling streets of the USA and tuning studio, thereby repeating the history of Hummer.
Inside the cabin of this "workhorse", as strange as it did not seem it is comfortable and cozy. Trim materials of the salon of cource are far from 2015 Porsche Cayenne's, but all the electronic devices are already present in the base set.
Especially, the rearview camera is useful, which allows you to see the space behind the vehicle in the smallest details. Will please the owner and the autonomous start system of the engine, light sensors, air conditioning and a premium audio system with powerful amplifiers and subwoofer. All the controls are intuitive and easy to use. Leather trim, wood inserts and seats with heating are also available as an option.
Lineup 2013 is equipped with ten cylinder engines on gas, the volume of 6.8 liters with 362 hp. The engine of this 11-ton monster is completed with a 6-speed automatic transmission. In general, the car is capable to develop a maximum of 115 km/h, with a modest average consumption of 13.7 liters of gas per 100 kilometers. And a convenience on the road provides the air suspension and shock absorbers Custom King weighing with a gross weight of 5 tons.
Here it is, a big toy for real men. Dimensions of the machine is so great that you can easily immerse Mini Cooper of your wife to the back load compartment.
Technical specifications of Ford F650 2013:
Engine: 6800 cc V-10
Power: 362 hp
Transmission: 6-speed automatic
Maximum speed: 115 km / h
Full drive
Total weight: 11,655 kg
Seats: 5
Fuel consumption: The average gas consumption of 15.7 liters per 100 kilometers
The cost in the United States from $ 59,870
With Ford F-650 road begins where exactly you want it!