Top 10 fastest cars in the world 2014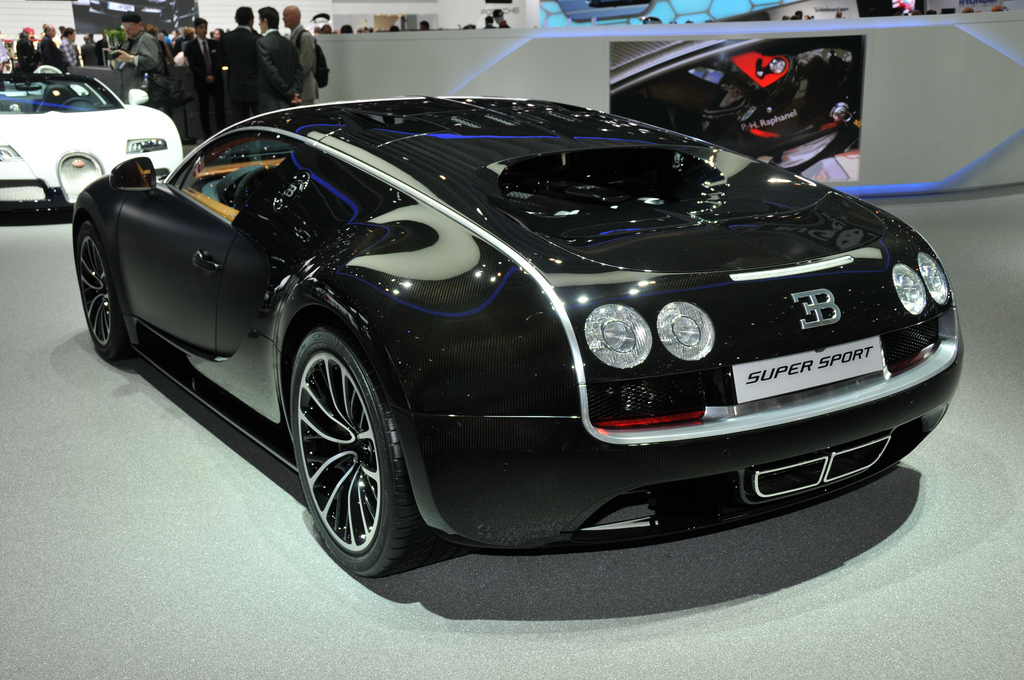 Fast cars are examples of the automakers which constantly improving the system of their cars and occasionally lead development to create the perfect and fastest vehicle to drive. Speed and power of cars - that most car enthusiasts are interested in buying (but often these parameters remain behind the price, which for most people is the determining factor). The more these indicators are better, the more edgier, interesting and fascinating movement on this car. However, just to put a powerful engine to create a fast car is not enough.
The design of sportscars are always bright and calling. This feature is directed to the part of the audience of real buyers who do not buy cars because of the characteristics, and, as they say, they love a car with their eyes. Therefore, to assess the fastest cars in the world, we need a picture where they are depicted, this is what we should start. They are not only the fastest, but some of them can be called the most beautiful (of course, in this category there is no clear leader, as people have different tastes).
In 2014, the rating of "10 fastest cars in the world" has been upgraded. It should be noted that this list has not changed much in relation to the created in 2013. Here is a list of those 10 super cars that will have your heart sinking into your gut and shivers running down your spine.
---
10th place - Ascari A10: 350 km/h, from 0 to 100 km/h in 2.8 sec
Ascari A10 - a sports car made ​​by British company Ascari Cars. It is equipped with a 5.0-liter engine V8 BMW S62, capacity of 625 hp that is delivered by a standard manual transmission and a six speed manual gearbox. In 2.8 seconds from 0 it accelerates to 100 km/h. The price for this supercar - $ 650,000. Since this car was limited in production, only 50 such machines are manufactured. By the way, this car was the fastest passenger sports car of 2007.
---
9th place - Noble M600 362 km / h, from 0 to 100 km/h in 3.4 sec


Another British car - Noble M600. This supercar is produced by a British company Noble Automotive, and its assembly is completely manual. The vehicle is equipped with a twin-turbo 4.4-liter V8 engine with 650 hp (485 kW). Each year, these noble cars is produced 50 units and its price is about $ 330,000. Up to hundreds, this "gentleman" accelerates in 3.4 seconds. Noble M600 was shown in the U.S. version of Top Gear, where it reached a speed of only 346 km / h, because the place on a runway where the supercar is tested ended.
---
8th place - Pagani Huayra: 370 km / h, from 0 to 100 km/h in 3.3 sec
Pagani Huayra – the successor model of Pagani Zonda, Italians worked for over 5 years on its design. The form of the car reminds a drop, and while individual elements of the body, wings, mirrors, front and rear bumper as flow from it, being harmonious continuation of a whole. Huayra was the first among the cars produced by Pagani, intended for sale in the United States. But so far the U.S. Department of Transportation is not allowing the Italian supercar in automobile market of the United States. Afraid of competition?
The name itself already says a lot. Huayra - the name of the god of the winds, which according to legend lived in the Andes. The supercar is equipped with twin-turbo engine V12, volume of 6 liters. Maximum reach speed is 370 km / h. While, acceleration to 100 km / h the vehicle performs in 3.3 seconds. You can buy it for around $ 1.4 million.
---
7th place - Zenvo ST1: 375 km / h, from 0 to 100 km/h in 3.0 sec
Zenvo ST1 - Its design is a great achievement for the Danes. The front features of the car with minor modifications repeated behind of the car, lateral contours of the body and wheel arches are thought over to the smallest details. Danes have tried their best, aggressive look of the machine inspires respect. Under the hood of Zenvo ST1 7-liter V8, which allows to develop 1104 horsepower. The maximum speed of the supercar is 375 km / h, and acceleration from zero to 100 km / h takes less than 3 seconds. Zenvo ST1 has the base price of $1,225,000. The central reason for such high price is that the car was created to give to customers a unique combination of excellence and speed. Its production is limited with only 15 units.
---
6th place - McLaren F1: 390 km / h, from 0 to 100 km/h in 3.2 sec
McLaren F1 - A true legend! More than 10 years, from 1993 to 2005, hold the primacy in the "arms race" among speeders. It has a top speed of 386 km / h. And by the way, among the cars with naturally aspirated engine, it is still the fastest! In the early nineties, the supercar was so powerful that it was necessary to develop for it special transmission - existed at the time just could not stand! The engine is located centrally with respect to the chassis. The first model developed in 1993, by Gordon Murray, he used hydrocarbon materials in order to reduce the overall weight of the vehicle. The maximum speed of the auto - 390 km / h, acceleration to 100 km / h takes 3.2 seconds. Engine power - 550 hp.
---
5th place - Saleen S7 Twin Turbo CP: 399 km / h, from 0 to 100 km/h in 2.8 sec
The fifth place of the list we give to Saleen S7 Twin Turbo CP - is a high-tech supercar of the US, refers to the fastest cars of the world. The car has turbocharged engine with 750 hp and it is the same engine as Bugatti Veyron's engine, but the maximum speed has only 399 kilometers per hour, unlike their rivals in the rating. Acceleration to hundreds occurs in only 2.8 seconds. However, the appearance is radically different from the design of Bugatti and this car cannot be confused with other cars (especially if to consider the possibility of painting the car in a variety of shades among which the most popular one is bright yellow hue)
---
4th place - Koenigsegg CCXR: 402 km / h, from 0 to 100 km/h in 2.9 sec
The fourth place belongs to Koenigsegg CCXR. The Swede speed, which debuted at the Geneva Motor Show in 2006. The body is made of lightweight aluminum, which considerably facilitated the mass of car. This enabled Koenigsegg CCXR to accelerate to 402 km / h with V8 engine with power of 806 hp. And the price of this amazing car is about a half million dollars. CCX can easily accelerate to 100 km / h in 2.9 seconds. This car meets all eco-standards since it operates on bioethanol fuel with the approximate average of 22 liters per 100 km.
---
3rd place - SSC Ultimate Aero: 413 km / h, from 0 to 100 km/h in 2.7 sec
SSC Ultimate Aero is the American supercar which is made by the SSC North America company (earlier known as Shelby). Under the hood, it has 6.9-liter twin- turbo engine, with the 8 cylinders that develops a whopping 1300 hp! SSC Ultimate Aero's price is about $ 654,400 and was the fastest car in the world starting from March 2007 to July 2010, which was registered in the Guinness book. All of these modifications give this car a maximum speed of 413 km / h, and it can go from zero to 100 in only 2.7 seconds.
---
2nd place - Hennessey Venom GT: 422 km / h, from 0 to 100 km/h in 2.5 sec
Second place in the list of the fastest cars in the world rightfully belongs to Hennessey Venom GT 2014. The speed mode of this machine: acceleration to 100 km / h in 2.2 seconds, the speed of 422 km / h with turbo-engine of 1200 hp. This car can be considered a combination of the chassis of England and the Chevrolet V-8 engine of America. Features: Sliding roof, rear-wheel drive. On January 21, 2013 the significant event took place - Hennessey Venom car was entered into the Guinness Book of Records after setting a new world record acceleration to 300 km / h in just 13.63 seconds! Prior to this, this world record belonged to Koenigsegg Agera R with acceleration to 300 km / h in 14.53 seconds.
---
1st place - Bugatti Veyron Super Sport: 429 km / h, from 0 to 100 km/h in 2.4 sec
Bugatti Veyron Super Sport - the world's fastest road-legal car hypercar from the French manufacturer Bugatti. Effective aerodynamic tricks used in the design of the car, give the body the ideal complete form. The main advantage of Bugatti Veyron Super Sport - 12-cylinder W-shaped Quad Turbo engine, which allows developing power to 1,200 hp. From the start hypercar gains 100 km / h in only 2.4 seconds. Due to the fact that the machine produces an incredible speed, it was decided to set a limit of up to 430 km / h. Unfortunately, this speed also comes with a hefty price tag of $2,400,000.