Date:
28 Nov 2015,
Views:
6530
2016 Infiniti QX30 - design, interior, exterior, video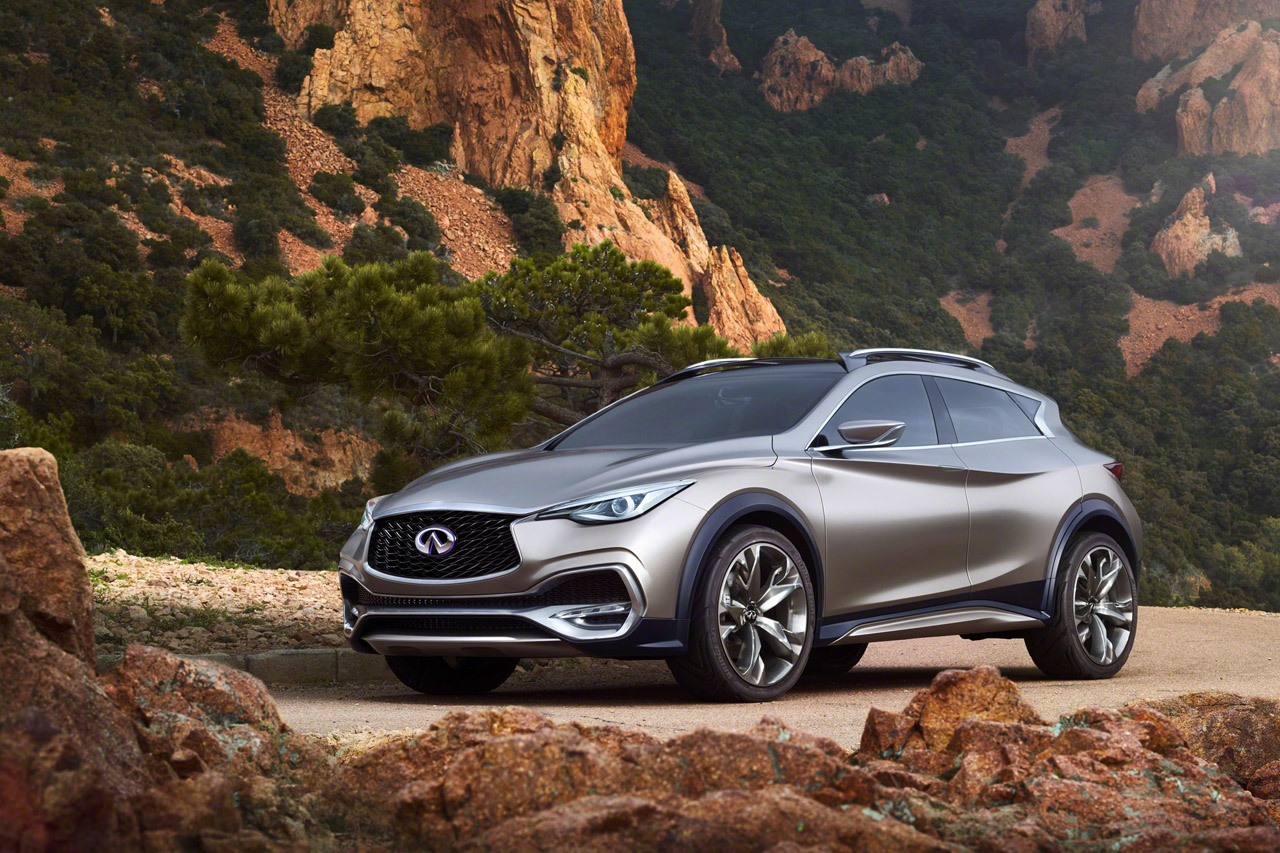 Japanese Company Infinity presented new concept crossover 2016 Infiniti QX30 at the Geneva Motorshow 2015. During the presentation, the representatives introduced all features of the novelty as well as sales which will start at the beginning of 2016 in Sunderland, England.
According to preliminary information, the price of the premium crossover 2016 Infiniti QX30 will be started at 30000 euros. The japanese model is based on the platform of Mercedes GLA and perhaps, it is the only similarity that unites the crossover with German cars. 2016 Infiniti QX30 differs from previous models not only with fantastic exterior design, but also rich interior that are used only luxury materials.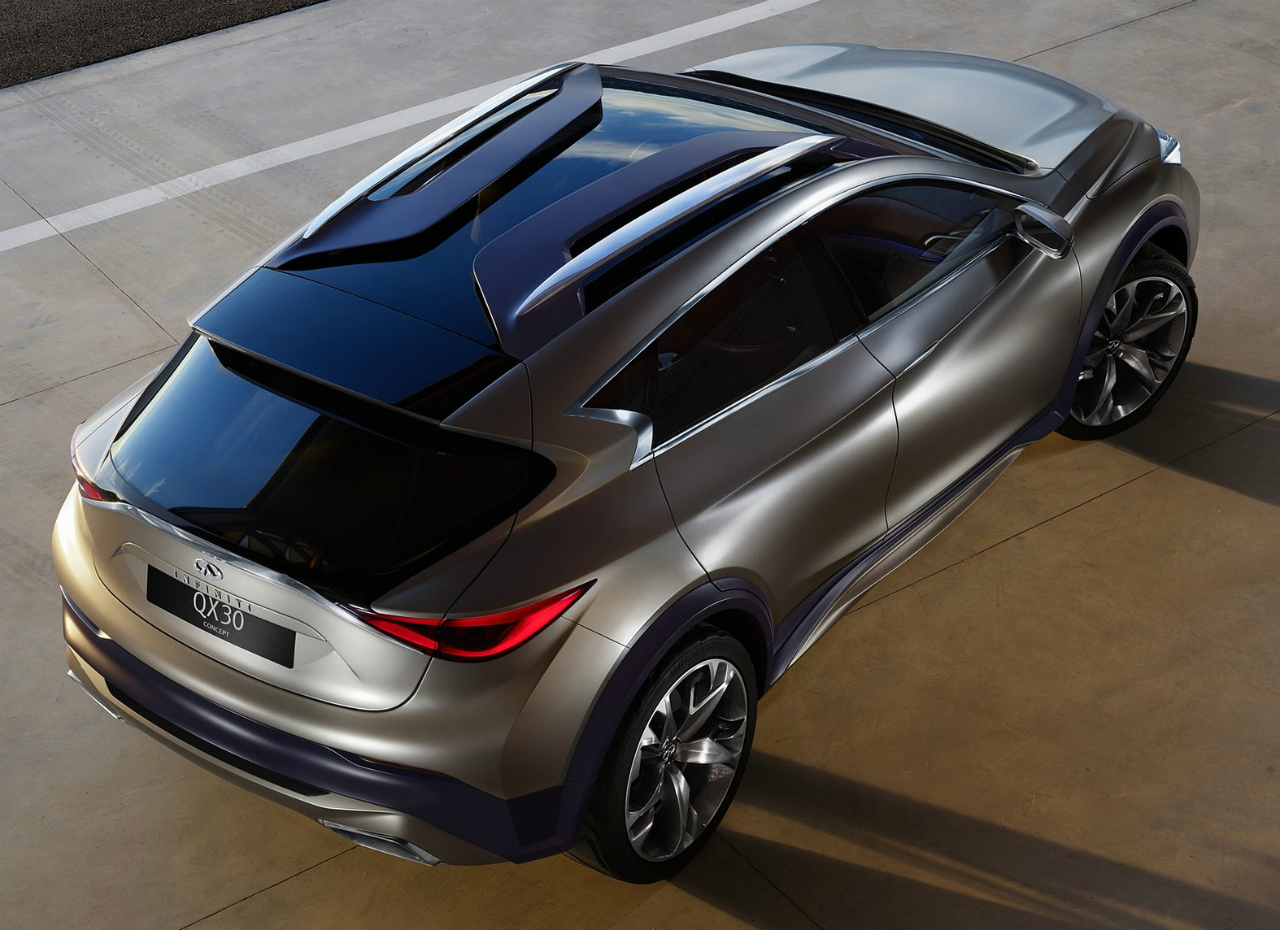 2016 Infiniti QX30: Exterior
The appearance of the car resembles a predator. In addition, it is worth special noting about the work of designers and engineers who managed to translate drawn extraordinary lines on paper and curves into the bodywork of 2016 Infiniti QX30, which make the car extremely rapid and defiant. The front headlamps narrowed set with led fillings, which in combination with an air intake having a kind of grin beast of prey makes 2016 Infiniti QX30 aggressive appearance. On the side, we see very smooth punched lines that curve along the wheel arches and go on the feed. The rear lights are also full of small LED filling.
The dimensions of 2016 Infiniti QX30 as follows:
Length - 4430 mm;
Width - 1815 mm;
Height - 1520 mm;
Wheelbase - 2699 mm;
Clearance - 192 mm.
2016 Infiniti QX30: Interior
When looking into the salon of 2016 Infiniti QX30, new form of seats will attract the driver at once, with luxury, quality materials and having sports appearance. The instrument panel and the display on the central panel are taken under a single leather visor. Colorful navigation system was installed on the instrument panel. In the center, there is a touchscreen InTouch entertainment system that may be installed in a standard complete set. We emphasize especially led illumination of all elements of the salon that creates lasting impression.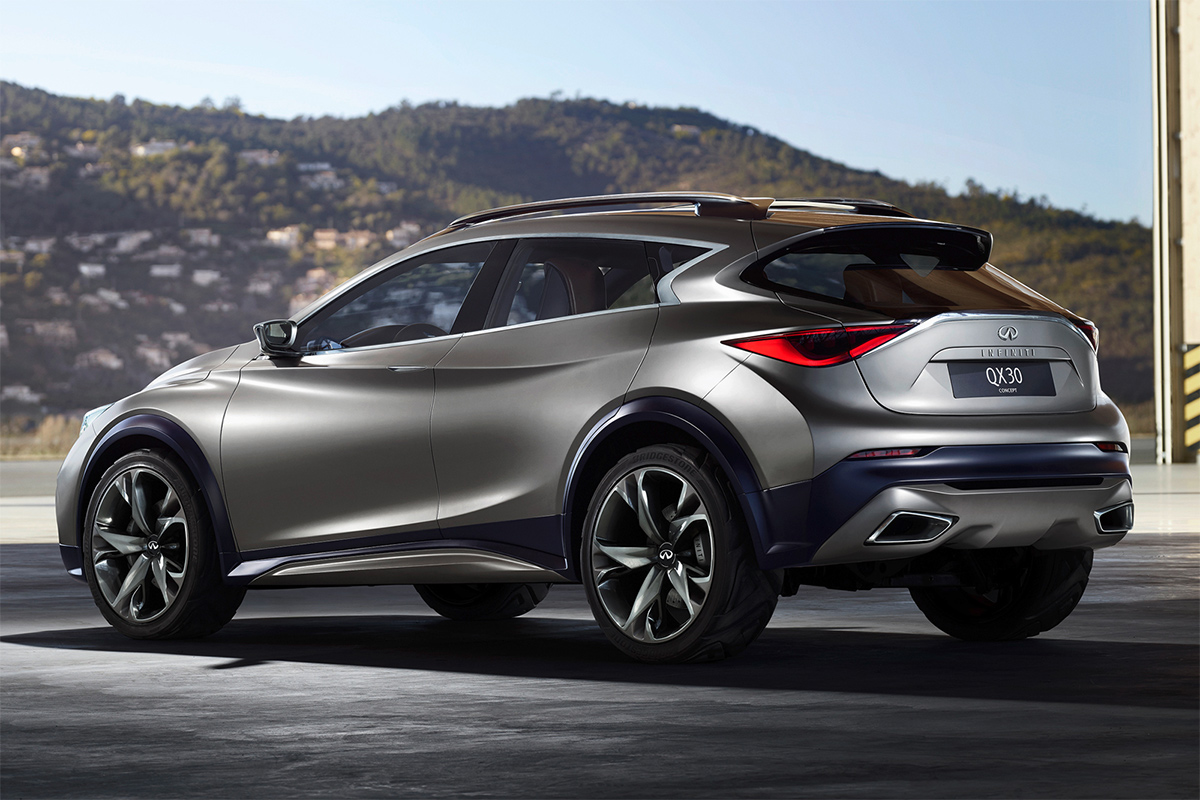 2016 Infiniti QX30: Technical Specs
2016 Infiniti QX30 is created on front-wheel-drive platform, and as an option you can order all-wheel drive modification. The steering mechanism includes electromechanical amplifier.
The base complete set of will be equipped with:
Bi-Xenon optics;
electric parking brake;
7 airbags;
ABS, EBD, ASR and ESP;
Help system when you start up the Hill;
climate control;
-immobilizer;
-parktronic.
Line of engines includes the following power units:
petrol motor volume of 1.6 litre with power of 156 HP;
2.0 litre petrol engine capacity of 211 HP;
diesel motor volume of 2.1 litres with power of 136 HP;
2.1 litres diesel engine capacity of 170 HP.
All power units work in tandem with 6-speed manual and 7-speed automatic transmission.
2016 Infiniti QX30: Video
20 Photos of 2016 Infiniti Qx30
2016 Infiniti Qx30 concept
2016 Infiniti Qx30 silver
2016 Infiniti Qx30 interior