Date:
28 May 2015,
Views:
7113
2016 Mercedes-Benz G-Class - specs, changes, interior, video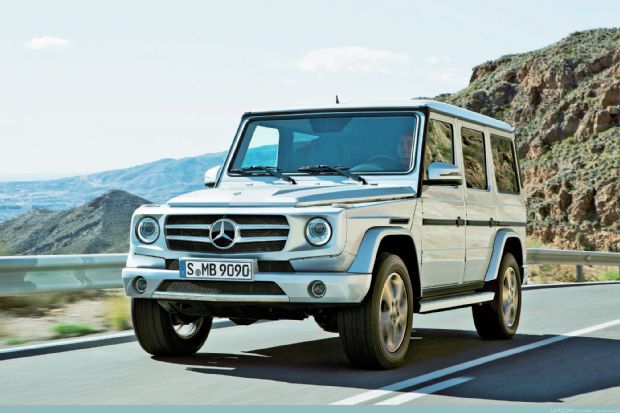 All Mercedes-Benz G-Class models will in future offer up to 16 percent more power and lower fuel consumption. The range includes the G 500 with a new, powerful 4.0-litre V8 biturbo engine. All engines are compliant with the latest Euro 6 emissions standard. A new suspension setup, together with more sensitive ESP® control results in increased driving stability, safety and road comfort. The exterior and interior have also been given an upgrade. At the same time, an exclusive AMG special edition will be available.
Mercedes-Benz's classic off-roader is beginning a new chapter of its success story which spans more than 35 years. With its continuously improved technology and high-class equipment specification, this cult all-terrain vehicle has consistently satisfied the highest expectations of off-road fans. True to this tradition, a new 4.0‑litre directly injected V8 biturbo engine already unveiled in the G 500 4x4² show car is now celebrating its world premiere in the G‑Class.
The new 8-cylinder powerplant in the G 500 can point to an exclusive heritage. It is based on the new generation of Mercedes-AMG V8 engines that have already coaxed exceptional levels of performance out of the Mercedes-AMG GT and Mercedes-AMG C 63. For use in the G-Class, the V8 has been modified to deliver 310 kW (422 hp) with torque of 610 Nm. Other standout attributes include a spontaneous response and high tractive power which are made possible, for example, by two turbochargers, which instead of being configured on the outside of the cylinder banks are arranged between them in the V – the so-called "hot inside V". This layout allows a compact design, optimal response and low exhaust emissions. High efficiency is ensured by Mercedes‑Benz's use of piezo direct petrol injection with spray-guided combustion. Maximum strength with lowest possible weight is guaranteed by the aluminium crankcase of the V8 engine. The cylinder bore surfaces feature Daimler's NANOSLIDE® technology, which makes them twice as hard as conventional cast-iron linings. This minimises both internal friction and fuel demand.
Specifications
| | |
| --- | --- |
| Cylinders | V8 |
| Cylinder angle | 90° |
| Valves per cylinder | 4 |
| Displacement | 3982 cc |
| Bore x stroke | 83.0 x 92.0 mm |
| Cylinder spacing | 90 mm |
| Compression ratio | 10.5 : 1 |
| Output | 310 kW (422 hp) at 5250 to 5500 rpm |
| Torque | 610 Nm at 2250 to 4750 rpm |
More power, lower fuel consumption
The engines of the other G-Class models have likewise been further developed and improved in the interests of superior tractive power and optimised fuel economy:
The G 350 d benefits from a hike in output from 155 kW/211 hp to 180 kW/245 hp, with its torque climbing from 540 to 600 Nm.
The AMG G 63 now delivers 420 kW/571 hp (i.e. an extra 20 kW/27 hp) with torque of 760 Nm.
Instead of 450 kW/612 hp, the 12-cylinder powerplant in the AMG G 65 now puts out 463 kW/630 hp with torque of 1000 Nm.
The G 350 d, G 500 and AMG G 63 are equipped as standard with an ECO start/stop function that reduces fuel consumption and emissions by switching off the engine when the vehicle is at rest, e.g. in a traffic jam or at traffic lights. As is typical of the G-Class, the new models retain the familiar sturdy basis of body and ladder-type frame, which still offers generous reserves to cope with the increased power. Also retained is the unrivalled off-road performance with permanent all-wheel drive, low-range gearbox and three differential locks that can be engaged/disengaged while on the move.
The standard suspension setup has been revised with optimised shock absorbers for improved control of body movements and even greater on-road ride comfort. An adapted ESP® setup makes for enhanced driving dynamics together with increased driving stability and road safety. Optimisations to ASR and ABS result in improved traction while shortening the stopping distance when braking.
In addition, the G 500 is optionally available with a new adaptive damping system with Sport and Comfort modes. This provides a significantly more agile on-road performance in Sport mode with undiminished off-road capability while at the same time reducing the typical SUV roll on corners.
Enhanced inside and out
Visually, the new G 350 d and G 500 models are especially easy to identify by their restyled bumpers and now standard AMG flared wheel arches in the colour of the vehicle. The G 350 d now also comes as standard with 45.7 cm (18-inch) five-spoke light-alloy wheels.
On the inside, the G 350 d and G 500 feature an eye-catching instrument cluster in two-tube look with 11.4 cm multifunction display and redesigned pointers and dials. The two AMG models also sport a redesigned instrument cluster.
New choice of colours
A new Colour package is available for customers wishing to give their AMG G-Class an even more personal look. There are exclusive exterior paint finishes in solar beam, tomato red, alien green, sunset beam and galactic beam. Detachable parts such as mirrors, front and rear bumpers, wheel arch extensions, the ring around the spare wheel cover as well as the roof are painted in obsidian black. The interior topstitching is colour-matched to the paintwork.
New AMG EDITION 463 special model: visible dynamics
With the new EDITION 463 special model, Mercedes-AMG is giving the G-Class an impressive sporty look. The exquisite interior specification includes a two-tone instrument panel, two-tone seats in high-quality designo leather with side bolsters in carbon-look leather and contrasting topstitching, seat and door centre panels in a diamond design, carbon-fibre trim and door pulls in nappa leather.
On the outside, a stainless steel underguard, AMG sport stripes along the sides, a protective-strip insert in black aluminium look as well as exclusive 53.3 cm (21‑inch) forged wheels underscore both the dynamics and exclusivity of the special model.
The EDITION 463 special model is available on the basis of the Mercedes-AMG G 63 and the Mercedes-AMG G 65.
The models at a glance
| | | | | | |
| --- | --- | --- | --- | --- | --- |
| Model | Cyl. | cc | kW/hp | Nm | 0-100 km/h in sec* |
| G 350 d | V6 | 2987 | 180/245 | 600 | 8.9 |
| G 500 | V8 | 3982 | 310/422 | 610 | 5.9 |
| AMG G 63 | V8 | 5461 | 420/571 | 760 | 5.4 |
| AMG G 65 | V12 | 5980 | 463/630 | 1000 | 5.3 |
* Provisional data
12 Photos of 2016 Mercedes Benz G Class
2016 Mercedes Benz G Class interior