Date:
27 Aug 2015,
Views:
6498
2016 Toyota Land Cruiser - restyle, specs, and video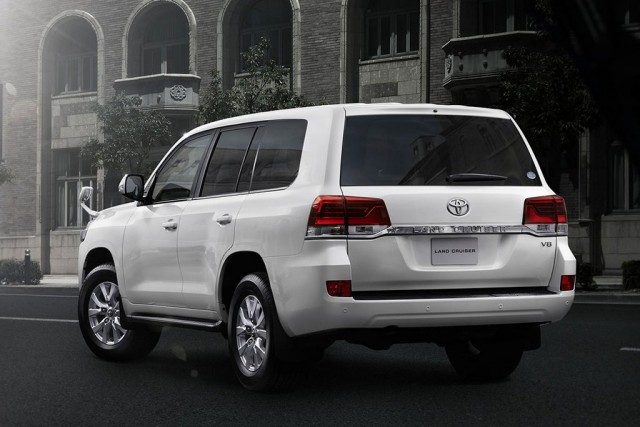 Japanese company Toyota Motor Corporation introduced a restyled version of SUV - Toyota Land Cruise. 2016 Toyota Land Cruiser has changed its interior as well as exterior, but not much as Lexus LX 570 2016-2017. However, restyling of 2016 Toyota Land Cruiser can boast with new front design, modernized interior, availability of modern security complex Toyota Safety Sense P, and advanced panoramic system.
2016 Toyota Land Cruiser: Exterior
Most changes are redesigned bumper, fog lights, hood and rear lights. Moreover, on the back appeared elongated chrome strip, passing along the entire tailgate setting under the lights.
Another feature of 2016 Toyota Land Cruiser is two new additional colors - Dark Blue Mica and Copper Brown Mica, which represent shades of dark blue and brown colors, respectively.
2016 Toyota Land Cruiser: Interior
Carefully considering new cabin of 2016 Toyota Land Cruiser reveal upgraded steering wheel, dashboard with 4.2-inch color screen, more modern designed center console with 9-inch touch screen entertainment system and air conditioner control unit.
2016 Toyota Land Cruiser: Specs
Most expensive version powers with 4.6-liter engine with power of 309 HP, and 4.5-liter diesel engine with power of 272 HP instead of 232 HP. Torque power unit increased to 650 Nm. As before, in both cases (automatic and manual) are used only six-speed automatic transmission.
2016 Toyota Land Cruiser: Safety
The most important novelty feature is installation of new complex security system - Toyota Safety Sense P, which consists of:
automatic braking system, able to react to pedestrians and cars;
monitoring and control system for objects located in the blind areas of mirrors;
system for marking and tracking vehicles in rear cross traffic;
Adaptive cruise control;
Adaptive headlights capable of switching from the main beam to the middle and vice versa;
tire pressure monitoring system;
super advanced panoramic.
2016 Toyota Land Cruiser: Video
8 Photos of 2016 Toyota Land Cruiser
2016 Toyota Land Cruiser 200