Date:
18 Feb 2016,
Views:
6346
2017 Ford Escape - exterior, interior, specs, video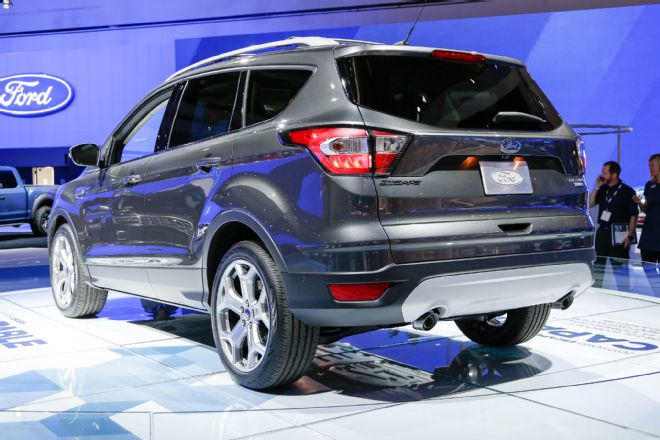 The world presentation of 2017 Ford Escape took place at the Motor Show in Los Angeles and sales of the updated crossover at the native American market began immediately after the show, while European consumers should wait for a while to purchase 2017 Ford Escape. The price of the model on preliminary data will cost between 23 600 and 29 100 dollars. Main competitors of the novelty in this segment can be an updated Mitsubishi ASX, Hyundai Tucson and KIA Sportage.
2017 Ford Escape: Exterior
Restyling of the car includes upgraded grille, stylish head optics and front bumper with large chrome trim. American engineers believe that more chrome usage makes it look more aggressive. The new version boasts with numerous aluminium components that affect overall weight of the car. Profile of 2017 Ford Escape demonstrates exaggerated wheel arches and stylish roof rails obtained from the previous model. Dimensions of the model as follws: length - 460 cm, width - 184 cm, height - 171 cm, wheelbase - 270 cm and trunk volume - 440 liters.
2017 Ford Escape: Interior
The interior of 2017 Ford Escaper after the restyling retains simular style but now the novelty became more ergonomic and spacious compared with the previous model, installed additional instrument panel and multi-function steering wheel. At the same time, seats are at the comfort level and have a lot of adjustments. Despite the update is carried out, there are some shortcomings, for example, climate-control unit is very uncomfortable, small display is practically unnoticeable on the multimedia system interface. The advantage is that, the base complete set of 2017 Ford Escape is equipped with excellent sound system, air conditioning, rear view camera, modern multi-functional steering wheel and parking assistant.
2017 Ford Escape: Technical Specs
Under the hood of 2017 Ford Escape installed basic 1.5-liter EcoBoost engine rated at 180 HP and maximum torque of 250 Nm replacing old power unit of 1.6-litre. The second motor is upgraded 2-liter EcoBoost power of 245 HP and 374 Nm with a new plunger and improved intake system. Ford Motor Company assured that both power unites became considerably quiet and more comfortable. Both power units are equipped with start/stop system that allows save about 4-6% fuel consumption. On an upgraded Ford Escape will have another 168 HP gasoline motor volume of 2.5 litre and top models optionally will have 240 HP strong turbo-engine.
2017 Ford Escape: Video

20 Photos of 2017 Ford Escape
2017 Ford Escape interior