Date:
03 Mar 2016,
Views:
5277
2017 Lincoln Continental - interior, specs, price, complete set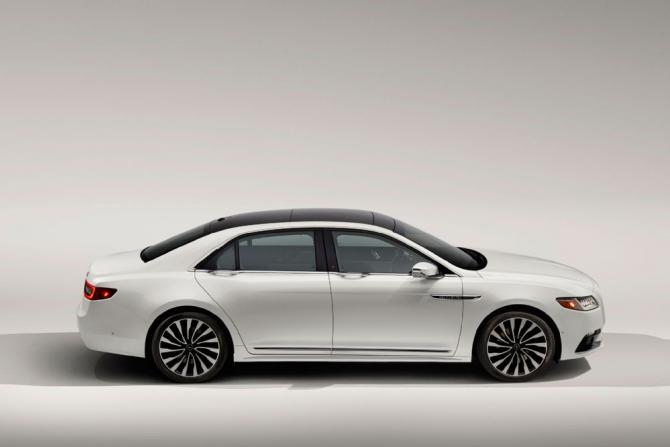 2017 Lincoln Continental was officially presented as 2017 model and of course, is consedered as flagship model of the brand. Lincoln Motor Company is going to start offering luxury sedan to American and Chinese customers in Autumn. Transformation of concept into serial model has gone without major changes since 2017 Lincoln Continental is almost identical to the concept, from bodywork to door handles. The price of the novelty is expected to be from $50,000 to $60,000. The company decided to manufacture the sedan at Flat Rock Assembly Plant in Michigan.
2017 Lincoln Continental: Interior
Regarding interior decoration of full-size luxury sedan, Lincoln selected a grille of Revel audio speakers among more than 200 designs. Heated and cooled system for front seats can be adjusted in 30 directions and the salon equipment set can be in one of three including Chalet, Thoroughbred and Rhapsody.
In order to make 2017 Lincoln Continental even more luxurious, Lincoln used the acoustic laminated glass and active noise reduction system, ensuring maximum quietness in the cabin. Ford's premium brand characterizes some of the materials used in the interior as rich, including leather upholstery, real wood, aluminum and leather inserts on the instrument panel.
To reduce the complexity of parking due to the large size of 2017 Lincoln Continental, the model is equipped with the system, providing a system of circular view thanks to the many cameras. For entertainment, SYNC 3 system is installed while panoramic sunroof covers almost the entire roof.
2017 Lincoln Continental: Technical Specs
Lincoln has not revealed all the details yet, but it is known that new version of Lincoln Continental will be equipped with 3.0-liter biturbo V6 motor which will be exclusive for the brand. The power of engine is 400 HP and 542 Nm of torque which provides smooth, responsive and quiet drive.
is build on all-wheel drive system that works with the system of Dynamic Torque Vectoring, distributing torque to the rear wheels in turns. The driver will have an option to choose one of the modes: comfort, normal, sport as well as adaptive cruise control.
2017 Lincoln Continental: Video

16 Photos of 2017 Lincoln Continental
2017 Lincoln Continental concept
2017 Lincoln Continental interior